The Forget Me Not Mermaid Dress is a very versatile dress. Wear it out to lunch or dinner, at the office, to a wedding or any event you could possibly think of. It is great for both summer and winter. Wear it will heel, sandals or high sandals and team with a cape or shrug to complete the look.
Features:
V-Neckline
Maxi Length
Backless Design
Sequin Finish
This item runs small. Please use size chart.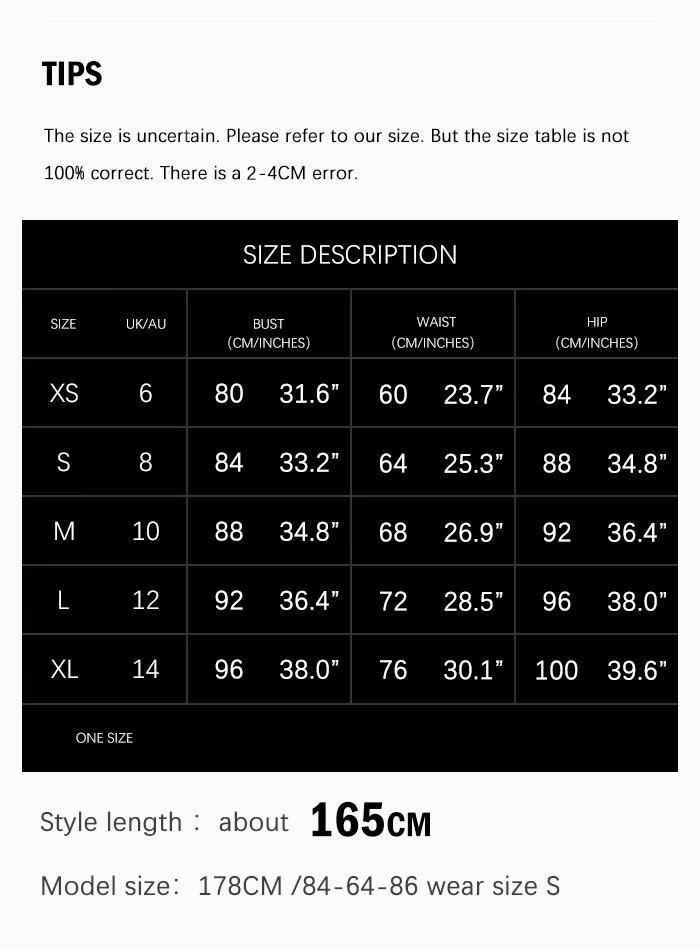 This item runs small. Please use size chart.
Free Economy Shipping
We offer free economy delivery on all orders. Delivery to the United States, United Kingdom, Canada and Australia, as well as much of Western Europe, usually takes 2-4 weeks. Delivery to the rest of the world can take up to 8 weeks.
These shipping times are estimates and although shipping is often much faster, we unfortunately cannot guarantee the shipping times of the free economy shipping service.
Premium Express Shipping
For those who simply can't wait to get their hands on their order, we also offer premium express shipping. Express shipping is by courier service (DHL, FedEx, TNT, EMS etc) and is charged at USD $35 per item. Express shipping typically takes around 5-10 days from the time the order is dispatched, and is fully tracked and insured.
Tracking Numbers
All items are dispatched with tracking numbers, regardless of which shipping method is chosen at checkout. Tracking numbers will be provided to you by email within a few days of dispatch and you can track shipping status of your order on our website here.
Order Processing Time
All orders are processed in the order they are received. This typically takes around 5 business days, and up to 10 business days for hand made / custom made items (for example, premium shoes, "costume" dresses/bodysuits and other couture items). Custom made items will display this information in the product description.
Most orders leave our manufacturers' premises within 5 business days of the order being placed (excluding Saturdays, Sundays, and public holidays). Dispatch is often quicker, but is not guaranteed.
Once your order is processed and dispatched, you will receive a shipping confirmation email with tracking information. If you haven't received tracking information within 5 business days of placing your order, please check your spam folder. If you still haven't received it, get in touch with us and we'll look into it.
Multiple Packages
In some instances, your order may be split into different packages and sent separately. This will mean that you will receive more than one tracking number and your items may arrive at different times and in separate packages. If some items have arrived but the others haven't, don't worry; they are on the way! You can always track your order on our site or you can contact us if you'd like an update. 
Customs and Taxes
Customs, import taxes, tariffs, and item seizures are the sole responsibility of customers. We will always dispatch your order so you don't need to pay tax, but we cannot guarantee there will be no tax due in the destination country.
Unclaimed Orders
Fashion Like Me is not responsible for any packages returned to us as refused, unclaimed, undelivered, or because of an incorrect or insufficiently provided address. Please ensure you check your address and contact details on your order confirmation email carefully and contact us immediately if you find an error.
Tracking Numbers for Free Economy Shipments
Most tracking numbera will not work immediately upon receipt. It usually takes a few days for the systems between logistics carriers to update.
While your package is en-route to your country, it won't show any updates. It is only when your national postal service receives the package in your country that the tracking number will work on your national postal service's website.
The above does not apply for items shipped under our Premium Express Shipping service.
Order Tracking
All orders can be tracked on our website here.
Order Cancellations
Order cancellations are strictly NOT accepted if the order has already shipped. If you do need to cancel your order, we recommend contacting us immediately to see if we are able to cancel before your order is shipped. This will be by exception only, and is never guaranteed, but we will do our best to help you.
Returns for Damage
We accept all returns for damaged items. Simply get in touch with us and we'll make it right. You will be offered an exchange or store credit. We require photographic evidence of damage and all items must be unworn, in their original condition and with all original packaging and tags in place.
Other Returns
We accept returns for any reason on all items that are unworn and undamaged, and returned with their original packaging and tags, within 15 days of the date of your receipt. All orders are tracked, so a delivery date will be recorded. We want you to be happy with your purchases, so if for any reason you're not satisfied, simply get in touch and we'd be happy to help you with an exchange or a refund in store credit. We do not offer cash refunds for returns.
Items Ineligible for Return
For reasons of hygiene, we cannot accept returns of lingerie and swimwear. Due to their individual nature, we also cannot accept returns of handmade items or custom made dresses. Custom-made items will state on the product page whether or not they are valid for returns.
Refunds
We do not provide cash refunds. Instead, we offer exchanges and store credit. Your store credit will be applied to your account upon receipt of the returned items and will be available to spend immediately.
Return Processing
Returns can take up to one week to process, after we receive your request with all the necessary information.
Undelivered Packages
Fashion Like Me is not responsible for any packages returned to us as refused, unclaimed, undelivered, held by customs without notification, or because of an incorrect or insufficiently provided address, and under such circumstances, no refund shall be offered. Please ensure you check your address and contact details carefully and ensure they are accurate. If there are any mistakes, please contact us as soon as possible so we can try to correct it.
Return Costs
With the exception of returns for damage, the customer is responsible for all return shipping costs, where applicable, with the exception of items eligible for our free and easy local returns service. In cases of damage, you will be reimbursed for your shipping costs subject to reasonable costs and proof of postage costs incurred being presented.
On many of our items we offer free local returns - you will be provided with a printable prepaid shipping label and can just drop the item off at your post office - in the following eight countries: United States, United Kingdom, Canada, Australia, France, Germany, Spain and Russia.
We are unable to provide easy local returns on items shipped to other countries. We are continually working to increase the number of items eligible for free local returns and hope to have the entire store be eligible by the end of the year. Please note that your original shipping costs are always non-refundable, but in the event of damage you will be provided with store credit to the same value as your original shipping costs.
Returns Held at Customs
In the very unlikely event that your returned order is held at customs upon return, please be advised that your return will take longer to process.
Out of Stock Items
We closely monitor our inventory levels and the website is usually updated in real time. Sometimes, however, despite our best efforts, some items are out of stock and unavailable for purchase. Should this be the case for any items on your order, we will make every effort to contact you by email and/or telephone to discuss your options. If we do not hear from you within a two week period of our first message, we will automatically refund you for the out of stock items.
Untracked Returns
Fashion Like Me does not guarantee that we will receive your returned item and is not liable for any returned items lost in transit. We recommend that customers select trackable, insured shipping methods to ensure their return arrives (note that this does not apply to items available under easy local returns).
Refunds
Banks and credit card institutions can take up to 10 working days to process refunds. Usually it's much quicker than this, but if, after ten working days, you still have not received your refund, get in touch with us and we will make it right.
It was asked m but still seems to be Xs, the dress is beautiful.
Ordered a XS and Small - I'm a UK size 8/10 and even the Small doesn't fit. Incredible dress and quality though, I've just had to order a medium - these dresses come up small for UK sizes.
Beautiful, right size as in the picture! Love…